TAIJIQUAN (TAI-CHI) COURSES IN BERLIN

Chen-Style Taijiquan (Tai-Chi) Classes in English language
Our Berlin courses in Chen-Style Taijiquan Classes take place in the Kulturbrauerei in Prenzlauer Berg / Pankow. We are a quite international crowd of Taijiquan enthusiasts training with commitment and fun in a formal and authentic Chinese tradition but without the usual folkloristic cliches. Classes are given in German and English (and in Chinese if necessary).
Nabil Ranné first started training Taijiquan in 1997. He is now a practitioner, trainer and coach of Chen-Style Taijiquan and a 12th generation lineage holder in the tradition of Chen Fake, Chen Zhaokui and Chen Yu. He teaches in Berlin and internationally in many cities in Europe.
Taijiquan (Tai-Chi) Beginner's Class
At the moment we don't have beginner's classes but you can start anytime with a trial month. Just register for 45 EUR with the info "Taijiquan Berlin" via Paypal: paypal.me/CTND
All classes are located at the martial arts school Madang in the Kulturbrauerei, Schönhauser Allee 36-39 (court no. 4 / building 9.2. / 3rd floor).
In all classes at Madang in Kulturbrauerei we train with bare feet and otherwise casual sports clothing.
Would you like to register now?
1. You can book a trial month via Eventbrite, it starts with your first visit. REGISTER FOR TRIAL MONTH!
2. If you need more flexibility you can get a 10-Classes-Card via Eventbrite: GET 10-CLASS-CARD!
3. Or you just transfer 45 EUR for a trial month or 150 EUR for the 10-class-card with the info "Taijiquan Berlin" via Paypal: paypal.me/CTND
Get a trial month per paypal:
Get a 10-Classes-Card per paypal: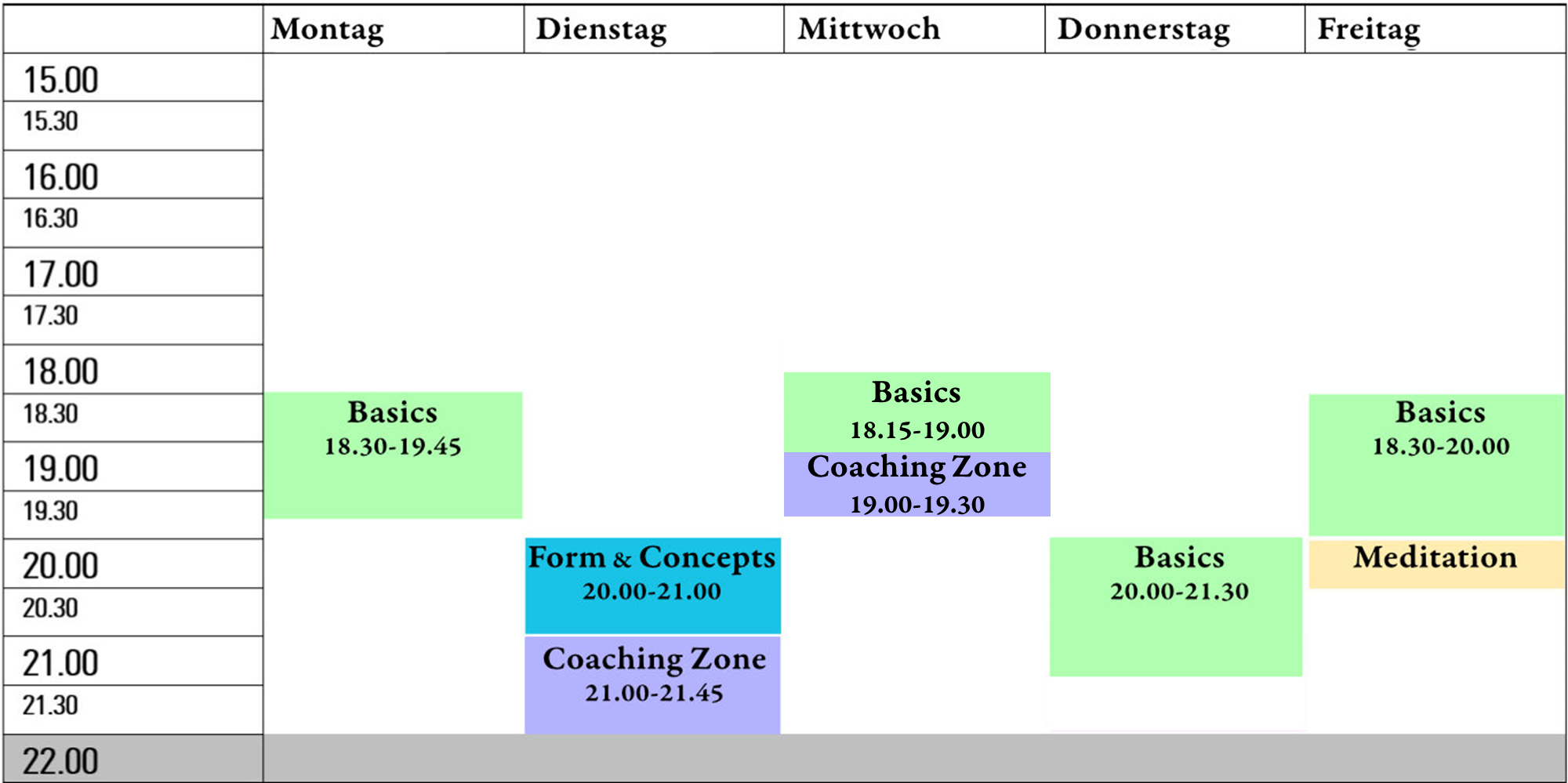 Basics: Qigong, Taijiquan basics and form training with a focus on fundamentals and foundational training.

Coaching Zone: Individual instruction in Taijiquan and self-responsible training with only little frontal teaching. For all levels!

Form & Concepts: We practice segments of the first form with instruction. Additionally key concepts of Taijiquan will be explained. Beginner to advanced!

Chen Boxing: What people often call "Kungfu". Taijiquan-techniques and a mix from self-defense, pushhands, drills to stepping and - most important - a lot of fun!!!

Meditation: Sitting meditation and mindfulness training.
What should I pay?
We offer three rates, depending on how much you want to train:
Light
Once per week: 50 EUR (1 class)
Normal
Twice per week: 60 EUR (2 classes)
Intensiv
All classes: 70 EUR Intensive (always)
Extras:
Gongfu Plus
+20 EUR extra for additional coaching (a quarterly private class and video coaching).
Supporting-Membership
You cannot come regularly but would like to support our school to keep on teaching traditional "no bollocks" internal martial arts? Then you can become a supporter of our school for 20 EUR a month. And then please come by if you do find the time - you are always welcome.
Families
Families and similar partnerships get a 20 EUR discount and another 15 EUR for all further family members on the respective rate.
Students and Trainees
We would like to support you guys. You can join us for 45 EUR a month and come to all classes.
Private Classes and intensive training:
You can get personal training for 80 EUR per hour, if you need more info on private classes please get in touch. If you stay in Berlin for longer periods of time and would like to get intensive, traditional training in an authentic Chinese gongfu tradition, please get into touch and we can surely organize a training schedule which enables you to build up a self-reliant practice.
FOR QUESTIONS AND QUERIES ON TAIJIQUAN IN BERLIN PLEASE CONTACT US
BACK TO THE CHEN-STYLE TAIJIQUAN BERLIN OVERVIEW
CHEN-STYLE TAIJIQUAN BERLIN IN CHINESE 德国柏林陈氏太极拳
Chen-Style Taijiquan Video first road:
Chen-Style Taijiquan Video second road: